Maybe you've heard of it maybe not, this

complex in the Beaubourg area of the

4th arrondissement

of Paris is just amazing. It is the Centre Georges Pompidou, Pompidou Centre in English. It was designed in the style of high-tech architecture.
Amongst many other things it houses the largest museum for modern art in Europe, the

Musée National d'Art Moderne

, as well as

IRCAM

- A Centre for Music and Acoustic Research which the locals simply call Beaubourg.
This complex was actually created by a handful of architects and engineers, 6 to be exact. They won this project in an architectural design competition in 1971. Later on

The Pritzker jury said the Pompidou "revolutionized museums, transforming what had once been elite monuments into popular places of social and cultural exchange, woven into the heart of the city."
I am sure that to visit this complex in real life must be truly an amazing and breath taking experience. This next pic is on the inside featuring Pablo Picasso's work.
Escalators inside the Centre. Photo courtesy of daviding.com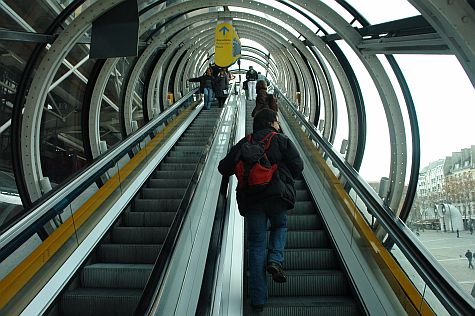 The next 2 pics are courtesy of gothereguide.com. The first one is inside and the next one is a birds eye view from outside.